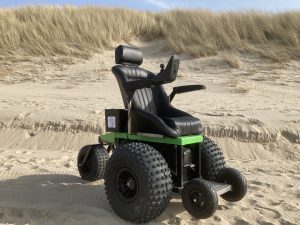 In consultation with the customer, we are happy to accept the challenge of developing a solution as desired. Whether it is off road wheelchairs, beach stretchers, transport carts or something else: if you want a custom product, hand pushed or electric, you have come to the right place!
We work with both tracks and balloon wheels. We make the choice between various options in consultation with you and depending on the application. Feel free to contact us to discuss the possibilities together.
Below you can see photos of custom products (prototypes and end products) that we have built recently.