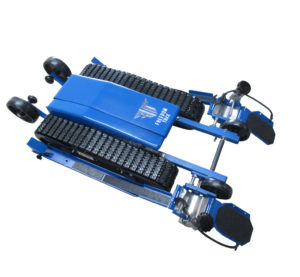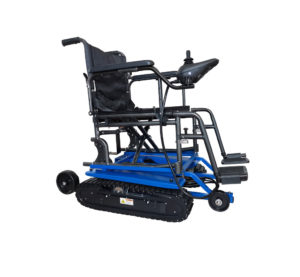 With this small lightweight platform you always have your own electric off road solution ready!
Freedom Trax is the system that makes independent driving through nature possible for the widest possible target group. With its small dimensions and light weight, it can be taken along in any passenger car. Moreover, with the Freedom Trax FT1 no transfer is necessary anymore: once it has been tailored for your own wheelchair, it is a matter of driving up the platform, securing it and going out!
Freedom Trax uses two small tracks and four wheels at the front and rear. What is created is a stable but very strong platform that "ploughs" through the heaviest surfaces. Freedom Trax is available in two versions: FT1 and FT2. The FT1 is intended to be driven on with your own hand-pushed wheelchair. FT2 is equipped with a fixed (demountable and collapsible) seat.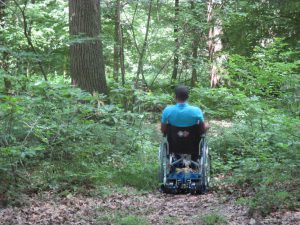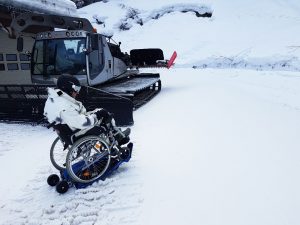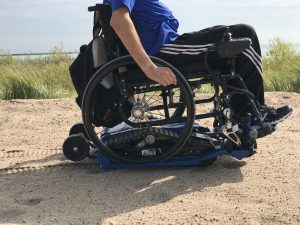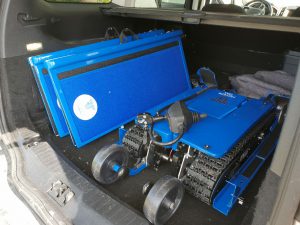 Click here to see how to mount the Freedom Trax 1
Click here to see the Freedom Trax 1 at the beach
Click here to see the Freedom Trax 1 in the forest
Click here to see the assembly of the Freedom Trax 2
Specifications FT1:
Dimensions 120x60x23 cm. 

Weight: <35kg.

Max. load: 115 kg.

Max. speed 5 km/h

Adjustable for wheelchairs with a width between 50 and 58 cm.

Max. angle of inclination 17⁰

Range up to 8 km. with basic battery and up to 16 km. with pro battery

2 x 250W motors

Standard battery pack: 24V 22Ah Li-Ion (max. 5 hours charging time)

Pro battery pack: 24V 33.5 Ah Li-Ion (max. 7 hours charging time)
Specifications FT2:
Dimensions 122x64x98 cm.

Weight: <42 kg.

Max. load: 135 kg.

Max. speed 5 km/h

Seat dimensions 45.5×44.5×46.5 cm. (lxwxh), with armrests 57.5 cm. wide

Max. angle of inclination 17⁰

Range up to 8 km. with basic battery and up to 16 km. with pro battery

2 x 250W motors

Standard battery pack: 24V 22Ah Li-Ion (max. 5 hours charging time)

Pro battery pack: 24V 33.5 Ah Li-Ion (max. 7 hours charging time)