Order here or ask for more information: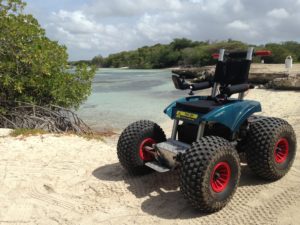 The CadWeazle 2.0 is Off Road Solutions' own successor to the CadWeazle. Based on ten years of practical experience, we have adjusted the necessary matters and removed the initial teething problems from the product, which has resulted in an even better and more beach-resistant product.
The electrically powered CadWeazle 2.0 makes it possible for people with a functional disability to visit the most beautiful nature reserves completely independently. Beach, forest, parks, mudflats, snow landscapes: surfaces such as sand, clay, mud, grass or snow are no problem for the CadWeazle 2.0. In addition, the CadWeazle 2.0 is user-friendly and extremely easy to maintain.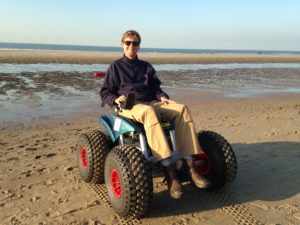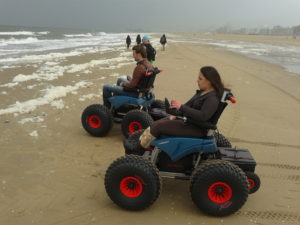 Specifications:
Frame made of seawater-resistant anodised aluminum
Four-point belt incl. Hip belt and foot restraint belt
Equipped with electromagnetic brakes
Joystick that can be easily converted from right to left and can also be disconnected to be operated by an attendant
Range 2 to 4 hours depending on the surface. This can be extended up to 1.5 times with an optional solar panel roof
Speed ​​max. 6 km / h
Maximum slope angle 30%
Dimensions: 120cm x 110cm (l x w) +/- 5 cm. depending on the air pressure
Weight: approx. 130 kg.
Max. load: 125 kg.