Order here or ask for more information: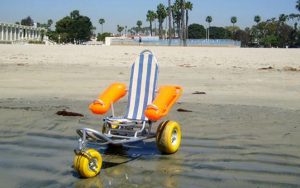 The Mobi-Chair is the swimming wheelchair from Mobi-Mat®. The comfortable seat is provided with UV- and water-resistant, non-allergenic and quick-drying upholstery. The three balloon tires are suitable for use in any terrain. The floats on both sides provide stability in the water and give a great swimming experience.
Because the chair can be completely disassembled, it is relatively easy to transport. Ideal for eg holidays or weekends away. All in all, this makes the Mobi-Chair a very nice, complete and well-priced leisure wheelchair!