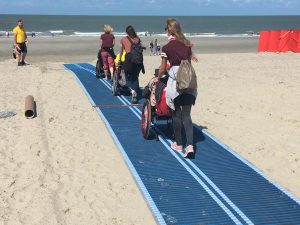 Mobi-Mat® RecPath™ Beach Acces Mats are designed as portable nonslip roll-up beach access mats for beaches, nature reserves etc. They're worldwide reknown for their superb quality, and are used not only by people with disabilities, but by walkers, elderly people, parents with strollers and many more who just prefer a solid soil when enjoying their time of into nature.
Technical features
Because of its patented 3-D design surfacing, the original Mobi-Mat® is the only nonslip, semi-rigid and stable rollout pathway. It's 3-D pattern makes soft sand slip through easily, avoiding sand to pile up on top of the mat. Besides, the mat remains cool even in tropical summer temperatures! Available in various colors (Blue Jay, Brown Eagle and Golden Sand) with white stripes for people with visual impairments, the Mobi-Mats are UV-, water- and mildew-resistant and mix beautifully together to create an accessibly, good-looking welcoming beach for municipalities, hotels, surf-clubs, beach restaurants etc. Last but not least, the Mobi-Mats are made of 100% recycled plastic. This way, we turn plastic soup into accessibility!
Other sizes
Mobi-Mats can be delivered in many sizes. If you'd like another size as offered on this website, feel free to contact us for more information and a quotation!