Order here or ask for more information: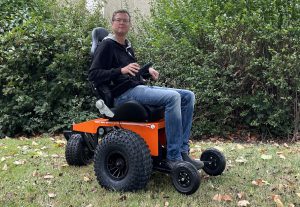 We build our own electric all terrain wheelchairs with local partners. This makes customization possible in many respects, such as seats, steering, type of batteries, etc.
The wheelchairs are distinguished by the fact that they can literally turn in their own place. This unique maneuverability makes them, in addition to the beach, suitable for busy parks, narrow forest paths, etc. This, in combination with the tires that can really handle any terrain, makes the chairs extremely versatile. In short: with this you have a great all-round leisure wheelchair!
Click here for images of the prototype testing:
Would you like more information or would you like to test the chair yourself? Please feel free to contact us to discuss the possibilities.