Through our colleagues from Beachmobility, our products are now available for rent in Belgium too, all year long! Below you can see the offer.
In consultation, the items can be delivered and picked up in Belgium. For transport you're charged € 0,42 per km driven. Alternatively, you can pick it up and return yourself (by appointment only!) in Blankenberge, at the height of Zeedijk 36. Please note, car traffic is not allowed here in July and August!
We do not support the transfers of persons from one chair to another!
By submitting a rental request, you agree to our rental conditions (as shown below).
De-Bug nr. 1: basic model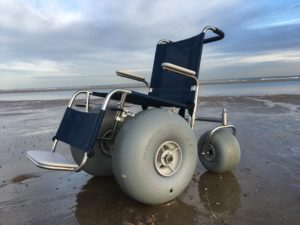 | | |
| --- | --- |
| 1 day | € 30,- |
| 2 days | € 55,- |
| 3 days | € 75,- |
| 4 days | € 95,- |
| 5 days | € 115,- |
| 6 days | € 125,- |
| 7 days | € 135,- |
| Extra days | € 10,- per day |
De-Bug nr. 2: adjustable leg rest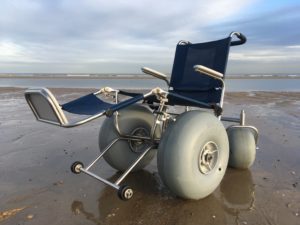 Hippocampe (size S, M or L, with head rest) with both normal and balloon wheels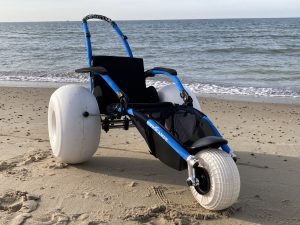 Rental procedure 
Requests for reservations must be submitted via the form on the website.
You will receive a confirmation by email with a payment request.
Your reservation becomes final when your payment has been received.
Reservations can be canceled free of charge up to two weeks in advance. You will then receive the full amount already paid. If canceled less than two weeks in advance, 50% of the amount paid will be reimbursed.
Use of our wheelchairs and walkers is always at your own risk.

Every wheelchair and/or walker must be returned in good condition and unchanged after the rental. In case of defects, those must be reported to us as soon as possible so that we can arrange repairment or replacement and minimize further damage.

When using our wheelchairs, the tenant declares that he is familiar with and agrees to the rental conditions.