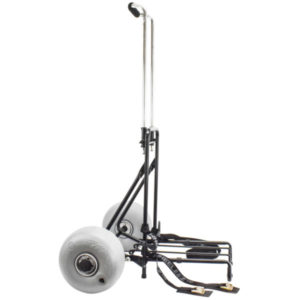 Wheeleez Beach Cart Folding Mini. Small hand truck with balloon wheels, for transport of boxes, coolers etc.
This Beach Cart Folding's small brother offers the same opportunities, though for leighter weights. This folding and telescopic hand truck is the perfect partner for transporting smaller size coolers, fishing boxes and other objects in sand or on any other kind of rough soil. Besides, sensible electronic devices like camera's or sound equipment can be transported perfectly on this cart, due to its low pressure balloonwheels cushioning punches. The Wheeleez Beach Cart Folding Mini can be dismantled and folded, thus enabling easy transportation.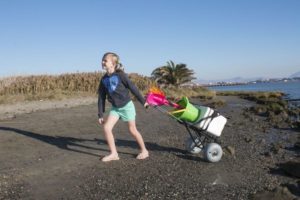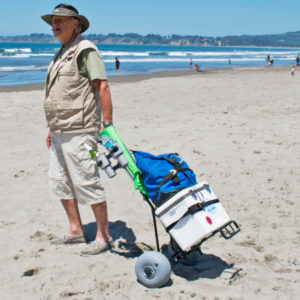 Specifications:
Dimensions (folded): 7 x 38.1 x 30.5 cm.
Height adjustable from 73,7 till 124,5 cm.
Dimensions platform: 36,8 x 35,6 cm.
Weight: 7,7 kg.
Telescopic handle range: 73,7-124,5 cm.
Equipped with two 30 cm. Wheeleez balloon wheels
Tubular steel with epoxy powder coating
Payload capacity: 45 kg.
Includes 2 tie down straps and and elastic band
Information about the prices of our products can be found in the product overview. Use the button below to contact us for more information or a quote.